KC's Wealthy Social Center Moves from Quality Hill to J.C. Nichols Country Club in the 1900s to 1930s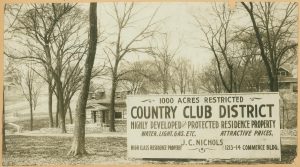 The effect of the advertising by the Nelson Rockhill and Country Club New Neighborhood "the immutably established highest class residence district with Restrictive Deed Covenant, i.e. no Negroes or Jews can purchase homes in these neighborhoods…. " and the cumulative decisions of many upper-income Kansas Citians to move from their homes on Quality Hill, in Merriam Place, near Independence Boulevard, along Troost Avenue, or in Hyde Park was becoming clear in 1915. Using designations and techniques developed by the preeminent analyst of Kansas City's upper class, it can be determined that they hypothetical 'social center' of the center had moved far south by that year from its origin 30 years earlier. The Social Center in 1885 had been the south side of Quality Hill at 12th and Washington streets".
"By 1915 this hypothetical center had moved to 37th and Warwick. In that year more than 16% of the identifiable 495 upper-class families lived in Rockhill and almost 10% lived in Nichol's Country Club District. This is a remarkable pull factor for a residential section only 10 years old at the time. By 1930 the social center had moved much further south and back a little to the west at 49th and Wyandotte. By this date, more than 55% of the identifiable 625 men and nearly 700 women who comprised upper-class society in that year lived on land subdivided by the J.C. Nichols Company. As late as 1975, when just over 2000 were counted in KC's upper-class circles, the social center of the city was located just west of 59th Terrace at Ward Parkway".
Style of home in Nichols Country Club Neighborhoods was considered "Period Styles"  Excerpt Below from the book The Abrams Guide to American Style Houses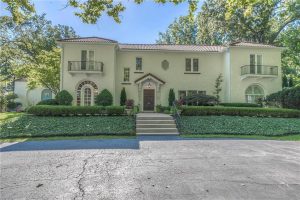 "The end of WWI and the beginning of the 1920's marked a boom in the proliferation of domestic style homes. The grand houses built in the Beaux-Arts style for plutocrats and their Georgian Revival brethern were superseded by a middle-class penchant for suburban dwellings; this trickled down to the working classes as well. The revolutionary developments of Frank Lloyd Wright #flw were of little importance to homebuilders who were lining the leafy boulevards and former farmlands with new homes. The underlying reason for choosing a style were "Does it look good?" and "What does it say about the houses's occupants?"
WWI marked a turning point for civilization-and for Americans because of our role in winning it. President Warren Harding assured us of smooth sailing, while streetcar lines and interurban trains made it possible to build outside of cities. These new suburbs were popular but challenged our notion of community. Whole villages and towns cropped up in places where there was no industry, no commercial center, and no municipality other than an address to identify the collection of homes where city workers retired to mow their lawns and sleep. The houses built then and over the subsequent decades were not high style, but representative of a basic idea of what an American house should look like.
Tudor, Colonial, Dutch Colonial, Spanish Colonial, and dozens of variations in between were there for the borrowing. Oftentimes a developer would use an identical floor plan for a series of houses, but the facade of each would then be decorated in such a way to suggest different takes on the past–say stucco and red tile roofs for Spanish Colonial, half timbering for Tudor."